Interest Form
To start, fill out this simple inquiry form and Artistic Director Ryan LaBoy will be in touch! Contact him with any questions: ryan [@] berkshirechildrenschorus.org.
Rehearsals will take place during the school year on Wednesdays at 5:00 pm in Sheffield or on Thursdays at 5:00 pm in Pittsfield. Families can choose which rehearsal location works better for them.
Sliding Scale Tuition (New! 2023-24 Season)
SLIDING SCALE TUITION: In the 2023-24 Season, Berkshire Children's Chorus is offering a sliding scale tuition model, in which families will pay tuition according to their yearly family income. This is a pilot program, and we will be evaluating its success over the course of the coming year.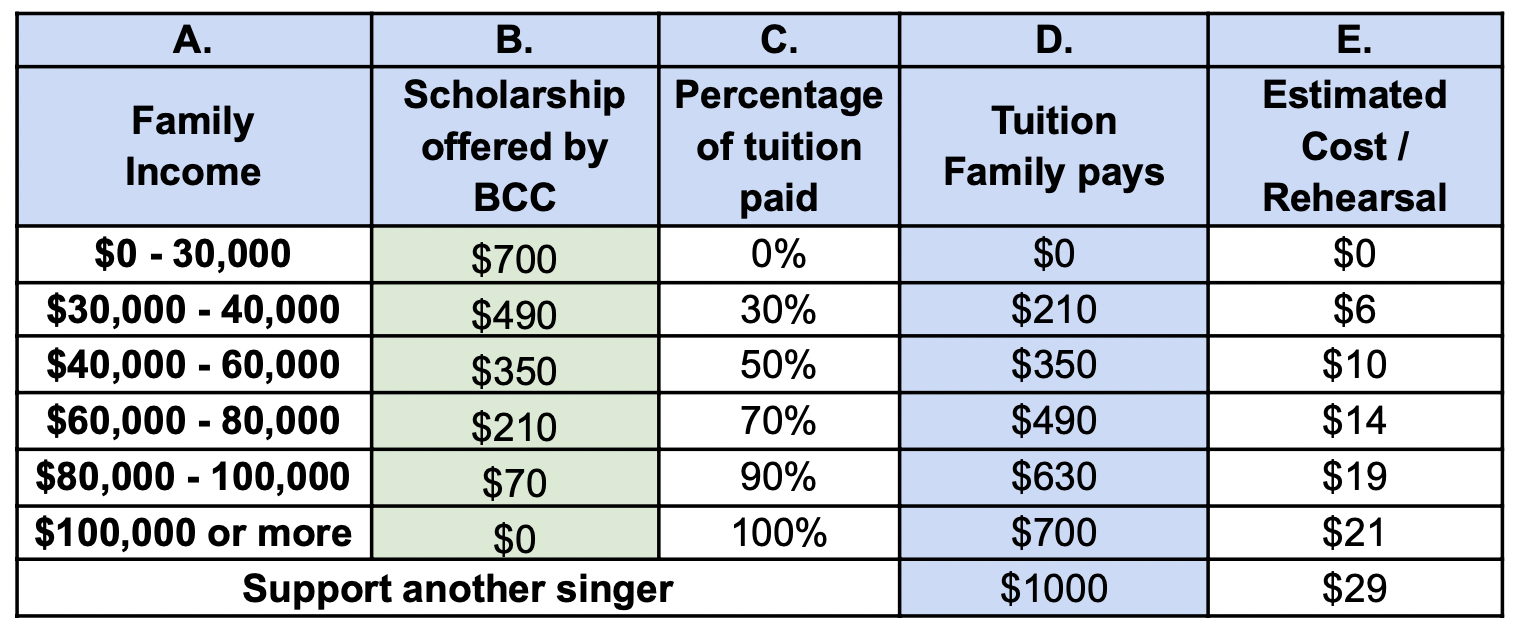 HOW TO: When filling out our registration form, we ask families to self-identify their income level (column A), based on what their household earns in a typical year, and plan to pay the corresponding tuition (column D). The Chorus will automatically apply a scholarship (column B) according to your family's income level. 
WHY: Tuition has always been an important part of our budget, but we have never turned a child away due to inability to pay. Following that precedent, the intention of this model is to make participating in Berkshire Children's Chorus even more accessible to families of all backgrounds by granting automatic scholarships according to income.
SUPPORT ANOTHER SINGER: These scholarships are made possible by donations from community members and community businesses. We welcome contributions from families who choose to pay more than their tuition level, in order to support accessibility for other singers. 
MORE DETAILS: We happily offer payment plans upon request (7 monthly installments, September through March). We also offer a 10% sibling discount for the second child from the same family to register. If cost is still an issue, please reach out to us at [email protected].